WALLTITE® is used to restore the structural stability and increase the thermal resistance and airtightness of existing cavity walls, with masonry inner and outer levels, in which the conventional wall ties have corroded. It is also used in new construction where it's superior thermal performance and airtightness properties make it the perfect solution. It has excellent resistance to driving rain and can be installed in all geographical exposure zones.
WALLTITE® is ideal where the need to reduce air leakage is important. The foam seals the cavity, does not shrink or allow air to pass through it, therefore air leakage through the cavity can be reduced to zero. WALLTITE® stabilises the wall by adhering to the inner surfaces of the cavity and providing a continuous structural connection between the two leaves.
The system can also be used on random stone walls that form uneven cavities.
Features and benefits
Energy efficiency - the continuous spray leaves a minimal amount of surface area without insulation resulting in some cases, a 30% decrease in thermal transmission and an airtight building envelope of low permeability without the need for supplementary material.
Sustainability - sustainable over the life span of the building, WALLTITE® can even prolong the buildings life as it protects against premature deterioration of building materials.
Design freedom - WALLTITE® also provides the specifier with complete design freedom as the spray foam adapts to the shape of the substrate providing an ideal solution for insulating difficult areas such as profiled and curved roofs. The product is self-adhesive and stays fully bonded to the substrate, preventing any possible detachment, common with other types of insulation.
Occupier comfort - for building occupiers, WALLTITE® makes a significant contribution to a comfortable indoor climate by creating a draft free environment that prevents the infiltration of pollutants, toxins and allergens.
Reliability - WALLTITE® spray insulation is installed by trained professionals approved by BASF in Ireland.
Certification
WALLTITE® has undergone various performance tests. Certificates are available on request.
Typical detail
New cavity wall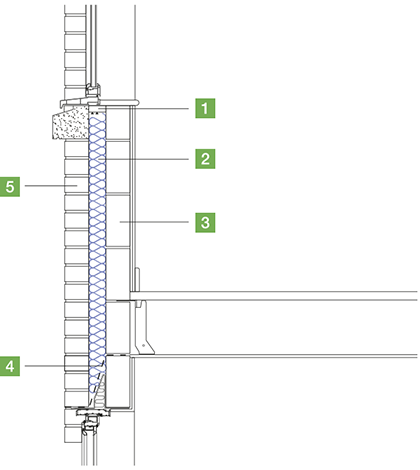 Insulated DPC cavity closer to be well sealed at edges
WALLTITE® CV 100 insulation injected into cavity to achieve target U-value
Lightweight blockwork
Cavity tray
New masonry brick
Habitable space: plasterboard and skim/VCL with taped joints (VCL to be carefully cut and sealed around struts, ceiling joists and penetrations); batten/counter batten rafters as necessary to achieve insulation depth, confirm rafter strength sufficient to receive counter battening and boarding if required.
Loft space only, non habitable: insulated between and over rafters 7to achieve target U-value. WALLTITE® may remain exposed.
Technical data
| | |
| --- | --- |
| Specification | Full fill, closed cell, cavity wall insulation and stabilisation system |
| NBS clause | F30, 10 and 150 P11, 50, 220, 230 and 24 |
| Lambda 90/90 | 0.025 W/mK |
| Closed cell content | 94.4% |
| Adhesion to brick | 231k |
U-values
| Thickness of WALLTITE (mm) | U-value (W/m2k) |
| --- | --- |
| 100 | 0.26 |
| 125 | 0.21 |
| 150 | 0.18 |
Additional resources
Case studies
Other downloads